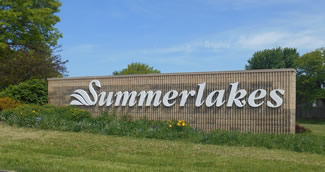 Welcome to the official Web Site for Summerlakes Homeowners' Association. This web site was created to offer the residents easy access information about this great community. The site will be updated frequently so please visit here often to get the latest updates.
This website is made possible by local business sponsors. Please support the businesses in the "Local Business Directory" section.
With the issuing of the "Stay-At-Home" order given by Governor J.B. Pritzker on March 20, the Summerlakes Clubhouse will remain CLOSED until at least April 6th. This is also in coordination with the school district, and is for the health and safety of our residents. Assessments are being collected and processed on a daily basis and can be paid through mail or put in the drop box in the parking lot. We are communicating updates through email, Facebook, and our website www.shainfo.com.
We thank you for your patience during this difficult time and continue to urge our families to follow through in their efforts to stay safe and healthy.
For the health and safety of our residents, this year's Egg Hunt will be cancelled.
ANNUAL EASTER EGG HUNT
(this event is for ages 10 years old and under)
Saturday, April 4th
10:00 a.m.
All participants should arrive by 10:00 a.m. and get in their designated hunting areas.
Don't forget your baskets!
Starting Times Will Be:
10:10 a.m.- Egg Hunt begins for ages 1-2 (under the pavilion)
10:20 a.m.- Egg Hunt begins for ages 3-4 (large playground area)
10:30 a.m. - Egg Hunt begins for ages 5-7 (southwest side of big rock area)
10:40 a.m.- Egg Hunt begins for ages 8-10 (north side of large garage)
The Easter Bunny will be available for Visiting and Photos!
REGISTRATION IS REQUIRED FOR THIS EVENT!
DEADLINE IS APRIL 2nd
Call the Clubhouse to sign up now! 630.393.3033