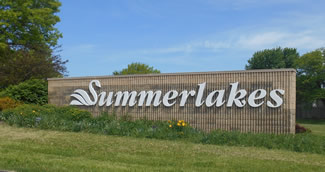 Welcome to the official Web Site for Summerlakes Homeowners' Association. This web site was created to offer the residents easy access information about this great community. The site will be updated frequently so please visit here often to get the latest updates.
This website is made possible by local business sponsors. Please support the businesses in the "Local Business Directory" section.
The hours of operation for the Clubhouse during the Fall and Winter months are as follows:
Monday-Friday 9:00 a.m. to 9:00 p.m.
Saturday-Sunday 11:00 a.m to 5:00 p.m.
Summerlakes
Halloween Party
Saturday, October 22nd
6:00 p.m. to 9:00 p.m.
"Mr. Freeze" Cryogenics Show at 6:30 p.m.
Refreshments/Music/Dancing
Costume Contest
Hayrides and Bonfire (weather permitting)
You must register for this event. Call 630-393-3033 to sign up by October 20th.