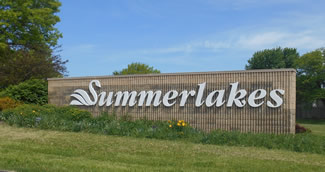 Welcome to the official Web Site for Summerlakes Homeowners' Association. This web site was created to offer the residents easy access information about this great community. The site will be updated frequently so please visit here often to get the latest updates.
This website is made possible by local business sponsors. Please support the businesses in the "Local Business Directory" section.
Judging for this year's holiday light contest took place on Sunday, December 18th, and the winners are:
30W270 Leominster Court
30W124 Arlington Court
30W270 Small Tree Court
If you haven't had a chance yet, drive by and see these beautifully lit up homes before the holiday ends! We appreciate the time and effort of everyone who participated in the contest this year Hope to see you next year!
The Clubhouse hours for the New Year holiday will be as follows:
Saturday, December 31st; Closed All Day
Sunday, January 1st; Closed All Day
Wishing all of our Summerlakes residents and their families a
very Happy New Year!